Jaywalker Lodge Program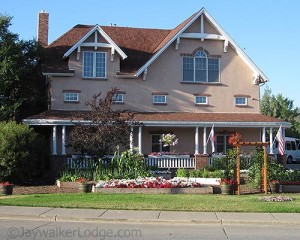 Jaywalker Lodge provides relapse treatment and transitional living programs for adult men seeking freedom from drug and alcohol addiction in the Rocky Mountains of Colorado.
Located in historic Carbondale, Colorado, Jaywalker Lodge combines a daily embrace of the 12 Steps program with mountain-based expeditions and a transitional focus on real life rehab and recovery. Jaywalker's therapeutic relapse program and a robust sober community provide our patients with time to heal drug and alcohol addiction, and  apply the tools of sobriety in their daily lives.
Engaging in fun and challenging physical activity on a daily basis is a vital part of Jaywalker Lodge rehab treatment center. Getting out in the mountains helps us look at life from a different angle, and contributes in so many ways to our work on personal growth and sobriety.
Jaywalker Lodge simply believes that effective long term drug and alcohol treatment needs to embrace the promises of our future in recovery and not the consequences of our past in addiction.