Jaywalker Lodge Integrated Outpatient Program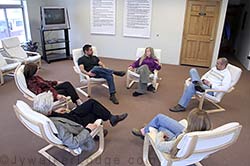 The Jaywalker Integrated Outpatient Program (IOP) combines education, therapy and sober group activities to provide a real-life solution for men ages 18 and over who are struggling with addiction to alcohol and other drugs. This fully licensed 90-day program consists of three (3) evening group therapy sessions along with one individual therapy session per week. Program participants may consult individually with Jaywalker's staff psychologist or psychiatrist at the direction of their IOP counselor. There is also an outdoor expedition activity, which is typically scheduled on the first Saturday of each month. Finally, IOP clients and their family members and loved ones may be scheduled to participate in Jaywalker's comprehensive four-day Family Program; these are scheduled and available every six weeks.
As part of Jaywalker Lodge IOP, a modified schedule is available to clients who may be in school, working, or a combination of both. The modification is a reduction in the number of group therapy hours from 9 hours over 3 sessions per week to 6 hours over 2 sessions per week. Program participants in a modified schedule will be expected to participate in all other components of their treatment program. Increased individual counseling can be provided if needed with the modified schedule.