Jaywalker Family Program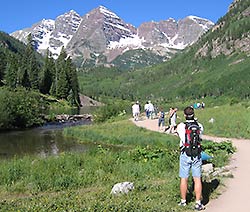 Jaywalker Lodge and Jaywalker Solutions both provide a comprehensive, four-day family program for clients' family members and their loved ones. The Jaywalker Family Program is included at no additional charge, and is scheduled Thursday evening through Sunday afternoon once every six weeks. The program provides Jaywalker men and their loved one with an opportunity to reconnect in a supportive, non-threatening environment. Participants will engage not only in education, family counseling and group therapy, but also in the same mountain-based recreational activities which are at the heart of the Jaywalker recovery experience.
Fact Sheet: Carbondale Lodging & Transportation
Family Program Dates:
January 15, 2015 to January 18, 2015
March 5, 2015 to March 8, 2015
April 9, 2015 to April 12, 2015
May 21, 2015 to May 24, 2015
June 25, 2015 to June 28, 2015
August 6, 2015 to August 9, 2015
September 24, 2015 to September 27, 2015
November 5, 2015 to November 8, 2015
December 10, 2015 to December 13, 2015
**Prior to arranging any travel, please speak with your loved one's counselor in regards to the appropriate Family Program to attend.**
The Jaywalker Lodge Family Program extends an invitation to affected family members to engage in or enhance their own recovery process. The Family Program provides concerned others with an opportunity to therapeutically address emotions, issues or questions they may have related to their own or family member's recovery. Topics covered can be varied, but may include such areas as "helping vs. enabling", family roles, boundaries, aftercare planning and Alanon.
The Family Program is designed to provide a venue for family members and clients to participate in education, group therapy and limited family therapy. The goal of our program is to build strength in the recovery process; identify new and healthy roles for all family members and to acknowledge hope for the future.
Another dimension of our Family Program is the opportunity to take part in an experiential outing with other program participants. The purpose of the experiential program is to introduce family members to a core activity of Jaywalker Lodge and the bonding experience it can provide for all involved.
Prior to arranging any travel for Family Program or for more information, please contact Penny Brown via email at pbrown@jaywalkerlodge.com, or by phone at (970) 704-9292.