Jaywalker Model of Care

"The Colorado Model"
Thoughts on Open Community Care in the
Treatment of Chronic Relapsing Addicts and Alcoholics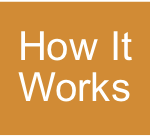 Open Model of Care
Jaywalker Lodge and Solutions Programs have developed a model of care that revolves around what William White, MA referred to as the Recovery Management Model.  At its core is community, and the belief that for treatment to be effective, some portion of it must take place in a real life community setting. Some of the aspects of this type of extended care treatment include:
Initiating Life in Recovery
Application
Peer Directed
Community Setting
12-Step Immersion
Structured, hectic re-entry into real life recovery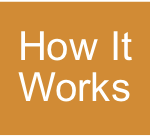 Getting to Recovery
We believe that there is a proven path that drastically improves the chances of success.  The Lodge and Solutions programs represent both Extended and Transitional Care, respectively.
Primary Care – 30 – 45 days – detox, secluded, education, counselor-driven

Extended Care – 90 +/- days – immersed, structured, peer-driven, community orientated

Transitional Care – 90 +/- days – freedom, self-driven, accountability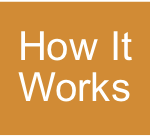 Immersed In Community
A bird's eye view of how our campus is set up – total immersion in the community.  Instead of seclusion, clients experience treatment without walls – making their recovery a true to life, real experience.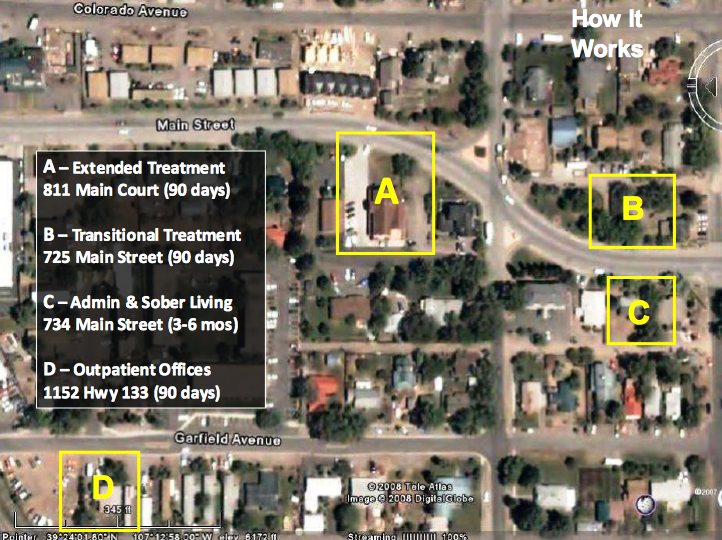 click image to enlarge
Key Elements in Our Model
There are three key elements to the Open Community Model:
Trust – both from client-to-program & program-to-client
Alumni Involvement – mentorship with newer clients
Service – giving back freely to greater community
Developing & Earning Trust
Trust levels fluctuate as the client progresses through the program from phase to phase:
Phase 1 – 80:20 containment to community in the first 90 days…
Phase 2 – Trust ratio 'evolves' to 20:80 containment to community.
Being of Service
Clients learn what it means to be over service to their environment without expectation of payment.
Experience is educational.
Structured and organized.
Staff and community participate with and among clients.
Prior preparation, supervision during and processing afterwards are essential.
Alumni Involvement
Our alumni are our greatest asset. We provide:
Networking Opportunities – via our alumni blog
Alumni Events – Expeditions & Activities
Volunteer Opportunity
In return:
Study outcomes
Clients experience important contact with men who have 'been there, done that.'
At Jaywalker Lodge, we believe individuals who return to rehab treatment do so for many reasons – but none more important than the failure to grasp and fully personalize Step One of the 12 Steps Program. Clients at Jaywalker will examine the impact of drugs and alcohol in all aspects of their lives through the writing and sharing of sections of their own life stories. This "section" work reveals the underlying truth about each individual's struggles with addiction and recovery.
For more, please see:
Program Summary
Founder's Letter
Founder's Vision
What We Believe
© Copyright 2003 to 2016 Jaywalker Lodge - Jaywalker Lodge drug and alcohol treatment center offers a 12-step rehab immersion program in Colorado, for motivated men. Through education, individual and group therapy, mountain expeditions and daily 12-step meetings, our addiction recovery clients engage in a vital spiritual experience which is indispensable to personal growth and long term sobriety.